My name is Michał and since I joined Guestline, back in 2019, I am working 100% remotely from my attic in Zalasewo in central Poland. This is my first remote job and frankly, I wouldn't change it in any way. Today I feel a part of Guestline and I developed strong relationships with many of my colleagues despite the fact we saw each other in person just a few times.
Remote work is ingrained in Guestline
Guestline Ltd. is a British company, established in the middle-sized town of Shrewsbury over 20 years ago. It grew steadily developing its hospitality software and today it employs over 200 people, with 100+ working from home. A couple of weeks ago I asked my teammates to pin their workplaces on the map. Here is the result: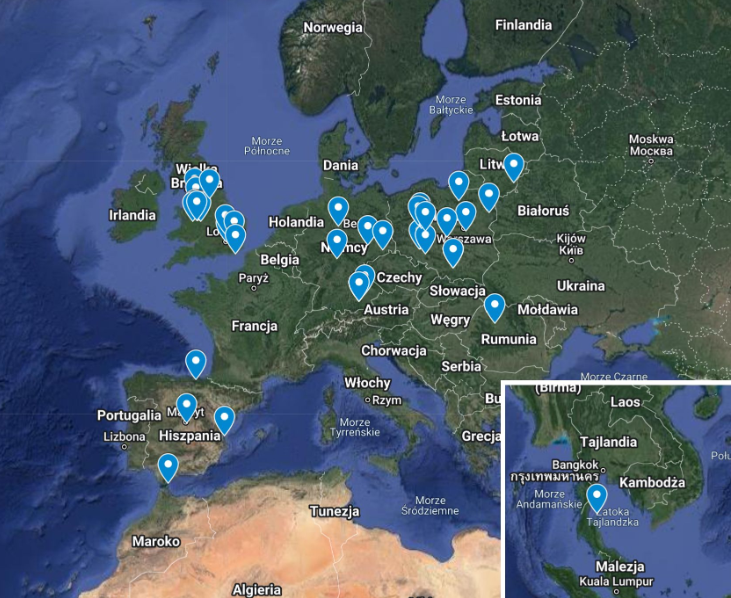 It turns out, that we are spread all over Europe and beyond! In my team of 10 people, we have daily meetings from Poland, Germany, England, Spain, and Gibraltar!
Most of us work remotely, even from towns that have a physical office. It's your choice. If you are comfortable with working remotely, you can do it. Maybe that's why getting used to the new normal wasn't that big of a deal when the Pandemic happened. It was much harder for our customers, that had to close their hotels, but for us, mostly working from home — nothing changed.
There's always time for a chat
In Guestline we tend to have a pair programming or mob programming session whenever needed. Those sessions are held in our Teams team channel so that everyone can participate. Some might think it's a waste of time, but I have other observations.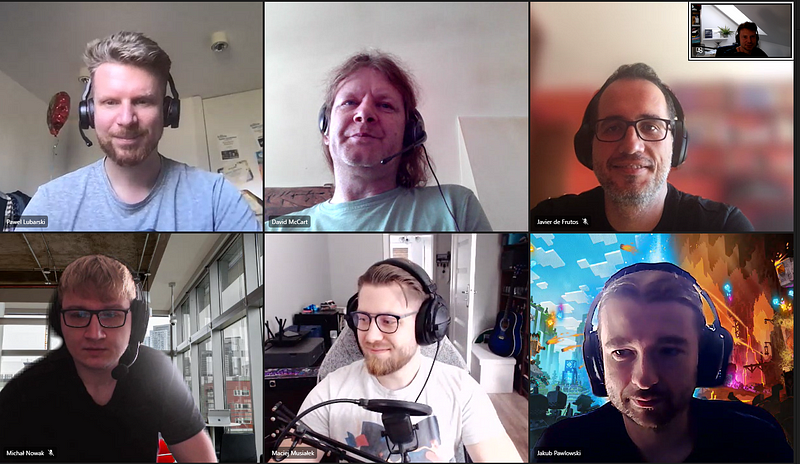 Working together actually solves problems faster, because more heads are involved. You get instant feedback and a brainstorming session is happening automatically. This results in fewer comments on the pull requests and faster feature development.
Also in every session, you share competencies across the team, because you can get involved in a topic that you have no experience with. With guidance from the team, you can complete the task faster and dispel any doubts.
This approach is great for the onboarding process. When a new team member is joining, he or she needs to learn a lot and get to know as many people as possible. Teams chats with cameras on, while working on a task, are perfect for that. Then you can switch after an hour, so the other person shares a screen and gets his hands dirty.
Spend time together
One of the good ideas that we introduced to our daily routine is to have an ice-breaking question at the beginning of the stand-up. One of the team members comes up with a question and we answer it one by one. Here is an example:
If you could learn one new professional skill, what would it be?
You could get answers like woodworking, bass guitar playing, or chemistry and as a result, you are slowly starting to get to know your colleagues. This practice is a starting point for chit-chatting while working. I must admit that through those sessions I developed strong relationships that are not based purely on work.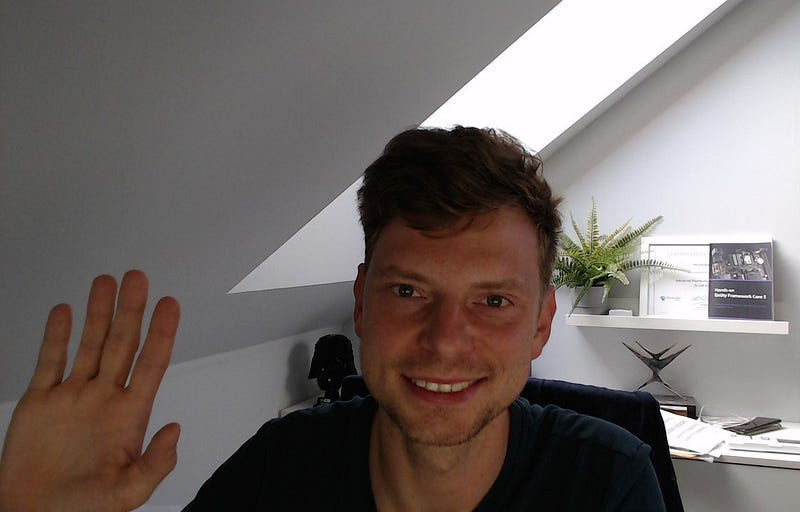 Meet in person once in a while
Despite working remotely, we do meet a couple of times a year. Once every year there is a whole company get-together in Shrewsbury. The idea of this meeting is not only to see each other in person but especially to talk to each other. We have a rule that you have to talk to as many people as possible and learn a bit about his or her work. And you should not use your laptop for the whole day!
I was amazed at how many people I knew just from Teams calls or chats and that I was able to talk to everyone like a distant uncle and find out how much we have in common.
Apart from the big meeting, we have smaller ones in Poznań or Shrewsbury, with fellow Labs members, where we go out for something to eat and a beer.
For me, working remotely blurs the difference between countries, cultures, or weather, because in the end we all use English and work as one development team. This is a great example of how the Internet and Guestline bring people together from all around the world.
Summary
People are sociable creatures, we need each other to grow. We are not robots to solve tasks as soon as possible, we need appreciation, motivation, and a feeling that we belong somewhere. If an organization sees it and gives space for non-task-solving activities, pair programming, and chit-chatting, then it makes it possible. I think Guestline does it well.