Większość programistów uwielbia grać w gry, a niektórzy z przyjemnością  grają po pracy. Niektóre firmy organizują regularne imprezy towarzyskie i spotkania. Jednak kiedy wybuchła pandemia, pracowaliśmy głównie zdalnie, a zorganizowanie imprezy towarzyskiej było po prostu niemożliwe.
W mojej firmie rozpoczęliśmy coś, co nazywa się fun hour, podczas której regularnie gramy razem w gry online. We wszystkie można grać za darmo, ale niektóre z nich oferują płatną subskrypcję z większą ilością opcji. Jestem pewien, że je polubisz!
Gratic.io
Gratic.io to zabawna i całkowicie darmowa gra online. Na zmianę losujemy jedno z dwóch zaproponowanych przez grę angielskich słów. Inni gracze muszą wpisać je ręcznie i odgadnąć, co przedstawia obraz.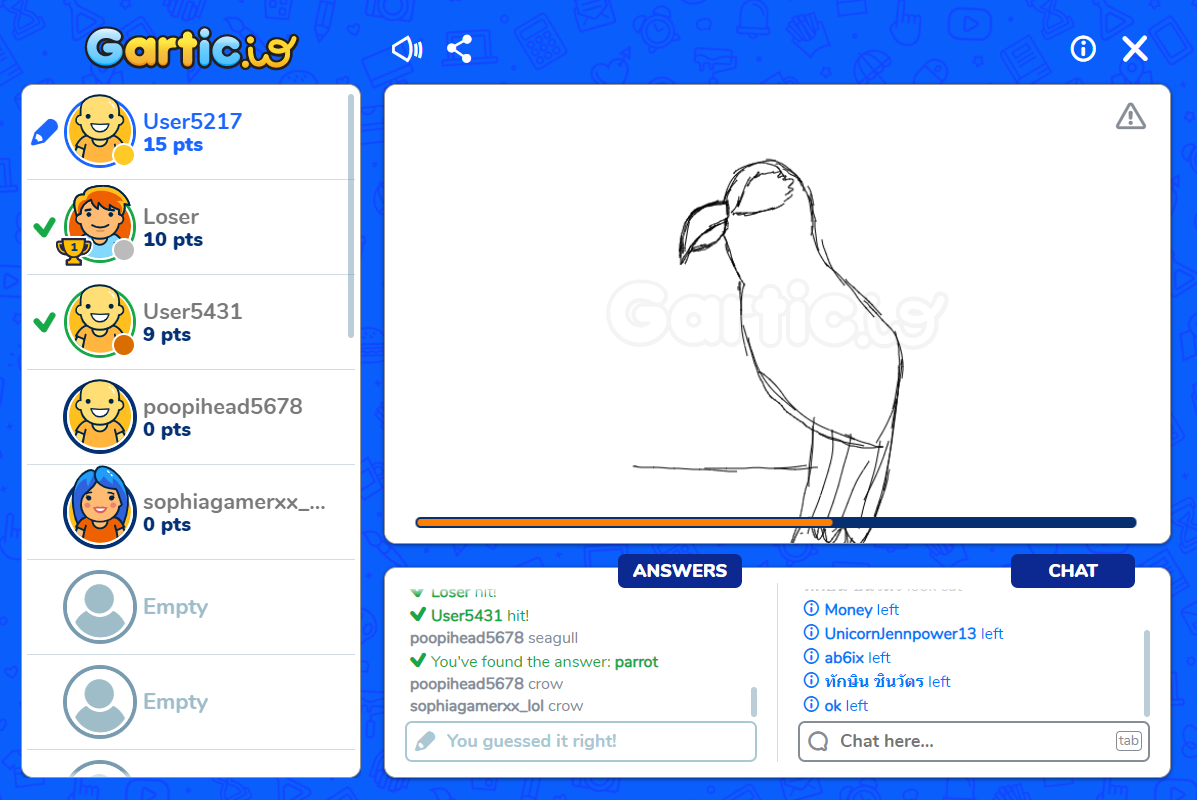 Słowa mogą być bardzo proste, jak papuga w tym przypadku, albo naprawdę trudne, jak listwa przypodłogowa. Możesz stworzyć prywatny pokój dla swojej drużyny i grać razem. Zazwyczaj mamy też w tle rozmowę na Teams, dzięki czemu możemy wspólnie komentować rysunki i śmiać się.
Link: https://gartic.io/
Soldat
Soldat to bardzo intensywna, wieloosobowa strzelanka w 2D. Wybierasz jedną z ogólnie dostępnych map i grasz w jednym z dostępnych trybów gry (przechwytywanie flagi, deatmatch itp.). Grafika jest bardzo prosta, ale to fizyka gry sprawia, że wydaje się ona bardzo realistyczna. Gra jest wciągająca, ale krew i latające części ciała mogą nie wszystkim przypaść do gustu.
W moim zespole zwykle dzielimy się na dwie podgrupy i gramy w trybie przechwytywania flagi. Dzięki rozmowie na Teams w tle, możemy swobodnie komunikować się i dzielić obowiązki i zadania między członków zespołu.
Bardzo lubię Soldat, ale są dwie wady tej gry. Pierwszą z nich jest to, że musisz zainstalować go na swoim komputerze, a to może być problemem na formowym laptopie. Po drugie, nie możesz stworzyć prywatnej mapy dla swojej drużyny (przynajmniej w darmowej licencji), więc mogą dołączać inni gracze.
Link: https://soldat.pl/en/
Among Us
Jest to prosta gra, w którą może grać wiele osób, ale tylko dwóch graczy jest oszustami, a pozostali członkowie drużyny muszą się dowiedzieć, którzy to. Zespół musi naprawić statek kosmiczny wykonując proste zadania umieszczone na mapie. Oszuści muszą zabijać członków zespołu jeden po drugim, nie dając się złapać. Za każdym razem, gdy zostaną znalezione zwłoki, zespół decyduje, kto jest oszustem i jeśli się zgodzą – zostaje wyrzucony ze statku.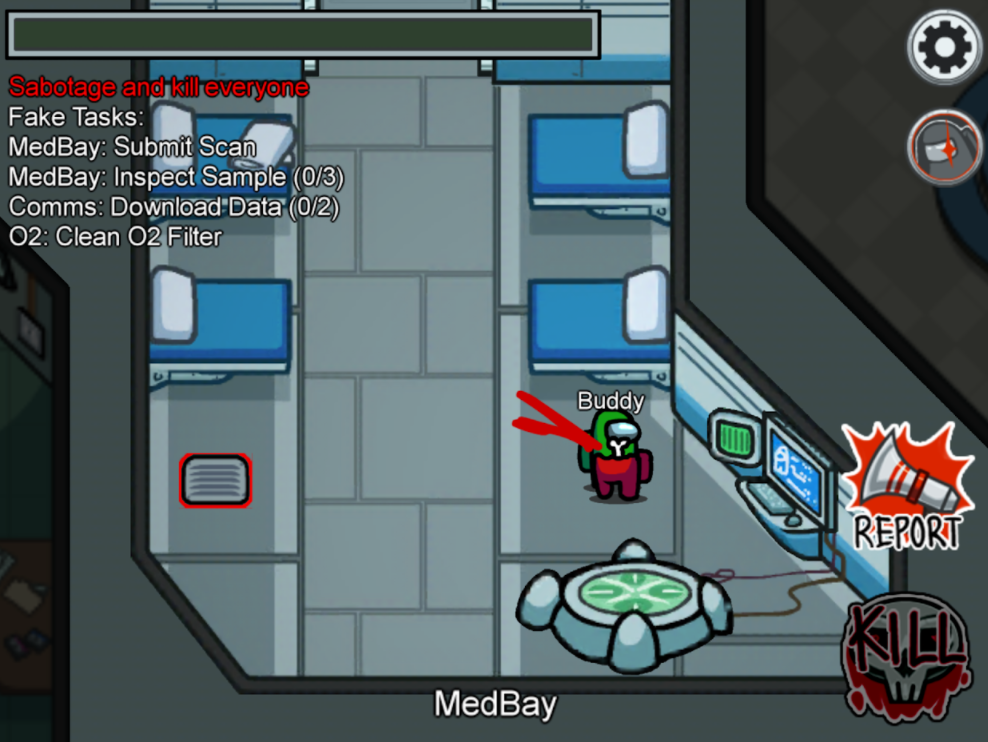 Najbardziej zabawną częścią tej gry jest dyskusja, która prowadzi do wyrzucenia kogoś. Musisz albo udowodnić, że nie jesteś oszustem, albo bardzo dobrze udawać.
Link: Among Us
Curve Fever
Jest to bardzo prosta gra zręcznościowa w 2D. Przypomina mi węża, ale w wersji wieloosobowej. Każdy gracz buduje ścianę i musi jechać ostrożnie, aby ominąć inne ściany.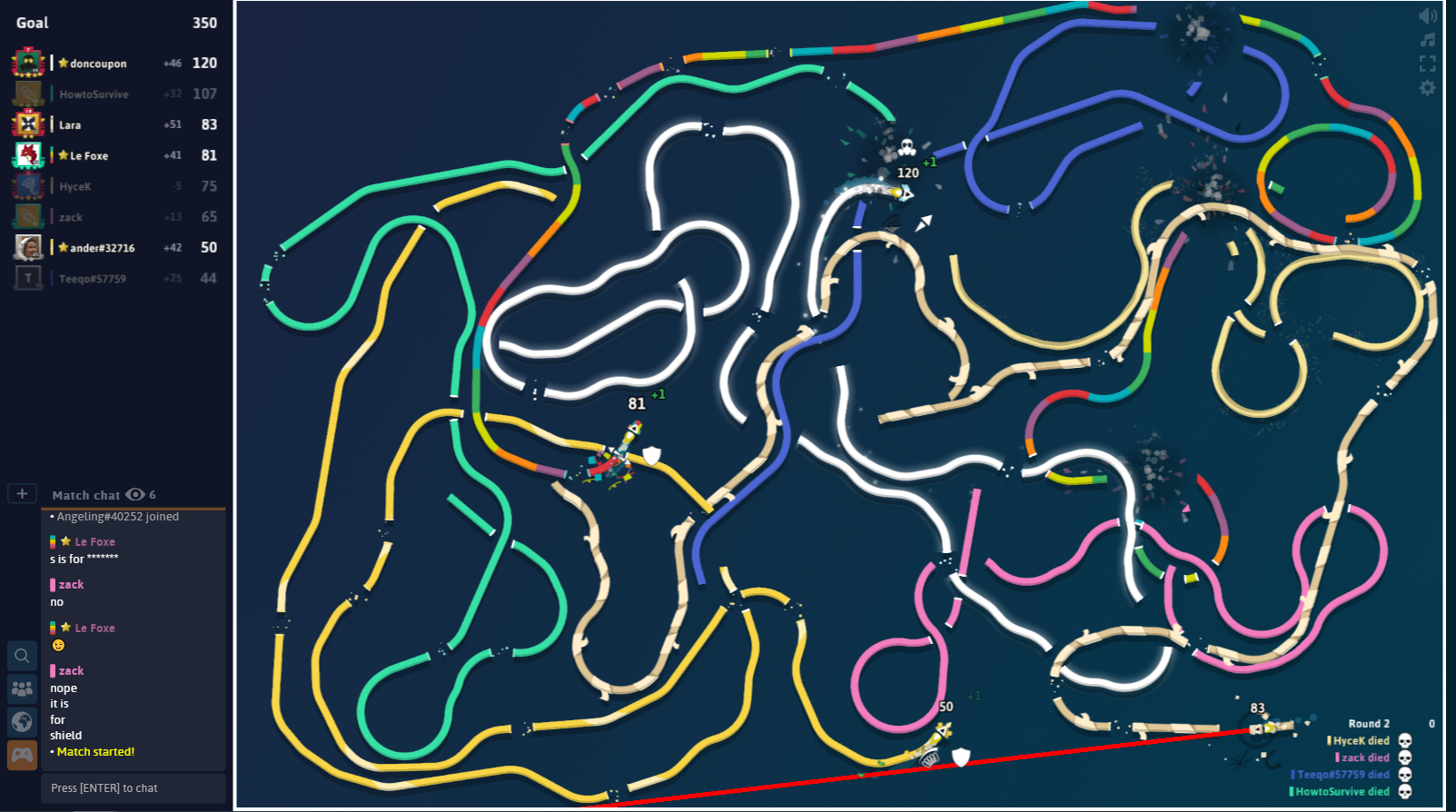 Myślę, że może powiedzieć, że w tej grze praktyka czyni mistrza. 
GeoGuessr
Jest to oryginalna gra, w której musisz znaleźć miejsce na mapie świata, po prostu eksplorując je w trybie Google Street View. Na każde zdjęcie masz maksymalnie 2 minuty, aby wybrać najbliższą lokalizację. Gdy wszyscy skończą, zostaniesz uszeregowany według tego, jak dobrze wskazałeś to miejsce.

To wciągająca, ale powolna gra. Muszę przyznać, że to jedna z moich ulubionych gier, bo lubię podróżować i poznawać nowe miejsca. Jakoś się nie nudzi i gramy w nią prawie za każdym razem.
Podsumowanie
Mam nadzieję, że spodobał Ci się mój wybór gier online, w które możesz grać z kolegami z zespołu. Jak ci się podobało? Może gracie w inne gry? Proszę daj mi znać 🙂